Photos taken at the GasUp Museum in Buellton, CA., also known as the Dry Lakes Racing Hall of Fame Home. Private tours by reservation by email:
Jack Mendenhall and Will Scott welcomed a group of car enthusiast on June 29, 2000. The following are a few photos - Bernice Rathbun of FL was kind enough to play the piano for the wives of the group to sing - You Are My Sunshine was the one that was the favorite as it was the one that they all remembered the words to. Someone had a video camera and it was taped for the memories.
From my understanding the Automobile Club in the early 1920's started putting up signs when they went traveling on those little dirt roads and when the "fork in the road" appeared people didn't know where to go. The automobile club of the wealthier people, they were the ones who had the cars first, would put in so much money and signs started to appear on the side of the roads. Paper first, then wood painted, then porcelain with the logo of Automobile Club on them. Other insurance companies were jealous of the advertising that they enjoyed so the signs were taken over by the state and taxpayers were handed the bill for maintaining the signs as we now know them today. story by Jack
pg1 [pg2] [Pg 3] [Pg4] [Pg 5] [Pg 6] [Pg 7] [Pg 8]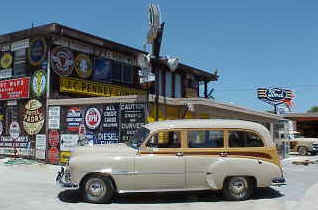 Jack & Vicki Deluca from Cos Cob, Conn.
(Chevrolet 52 if I remember)