R
ichard Parks is always busy with Racing.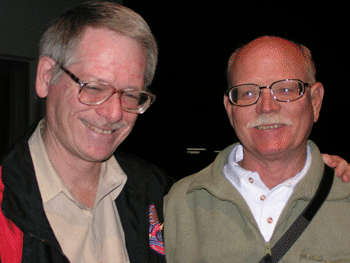 Will Scott (r) and Richard Parks at the Petersen Museum enjoying the Speed Exhibit. Will spends his time at the Mendenhall Museum in Buellton giving tours and keeping things looking good. We thank both these great men for the work they do.
We wish to welcome Richard for his articles, all the work that he has done to further reunions, and preserve the late and Great Racers by highlighting the greatest wins and loses.

Richard Parks was responsible for the Boat Racers Reunion for the several years. Which was a Total Success.
Weekly Articles: by Richard Parks
Gone Racin' Bulletin Board for all racing fans. Index
Off-Road Motorsports Hall of Fame Honorees June 7, 2005
GASUP 2005 Hall of Fame Inductees 05/September/24
Oilstick Home Racer Mall Boat Article 2ndBoatArticle